Acht jaar na haar zeer succesvolle en veelgeprezen expositie In and Out of Fashion keert Viviane Sassen terug in Huis Marseille met de monumentale tentoonstelling Venus & Mercury, die alle zalen en ook de tuin van het museum in beslag neemt. Deze tentoonstelling ontstond in Versailles, waar Sassen nieuw werk creëerde geïnspireerd door diverse geschiedenissen rond de Franse hofhouding in de zeventiende en achttiende eeuw. Zij verweefde deze verhalen tot een melancholisch narratief doordrenkt van erotiek, macht, intrige, ziekte, verval en dood. Speciaal voor Huis Marseille maakte Sassen een aantal nieuwe installaties, waaronder een gebaseerd op de bewonersgeschiedenis van het Amsterdamse grachtenpand.
Hieronder vindt u informatie met betrekking tot titel, jaartal en techniek van de werken (per zaal).
Eight years after her highly successful and acclaimed exhibition In and Out of Fashion, Viviane Sassen is returning to Huis Marseille with a monumental exhibition: Venus & Mercury, which occupies all fourteen galleries as well as the museum garden. The exhibition was born in Versailles, where Sassen created new work inspired by various accounts of the French royal court in the 17th and 18th centuries. She wove these stories into a melancholic narrative drenched in eroticism, power, intrigue, illness, decay, and death. Sassen also created a number of new installations especially for Huis Marseille, including one based on the residential history of this Amsterdam canal-side house.
Below you will find information about the works regarding title, date, and technique (per gallery).
401 Gang / Hallway
Pancrastinae #02
2019
Digital print on archival paper
401 Receptie / Reception
The Young One
2019–2020
Digital print on art paper, neon
Pancrastinae #01
2019
Digital print on archival art paper
401 Tuinzaal / Garden room
Leïla / Parterre du Midi
2019
Digital print on Luster paper, stabilo pen
Leïla
2019
Digital print on canvas
Le Maure & La Mauresque
2019
Digital print on Luster paper
Sweet tongue
2019
Digital print on art paper
401 Grote zaal / Large room
Venus & Mercury
2019
Video (loop, 20 min)
401 Lichthof / Light court
Secret Letter / Pink
2019
Digital print on canvas
401 Kleine zaal / Small room
Code / Nude
2019
Digital print on art paper
True Love
2019
Digital print on art paper, ink
Five Secrets
2019
Digital print on art paper
Code / Blue
2019
Digital print on art paper
401 Bovenzaal / Upper room
The Attempt / White
2019
Digital print on Luster paper, posca paint
Lily
2019
Projection
Équipe #01
2019
Digital print on art paper
Équipe #02
2019
Digital print on art paper
399 Bovenzaal / Upper room
Infinity
2019
Digital print on art paper
Madame Victoire #01
2019
Digital print on art paper
Madame Victoire #02
2019
Digital print on art paper
399 Grote zaal II / Large room II
Untitled (Braids)
2019
Digital print on Luster paper
Charline / Fumé
2019
Digital print on art paper, ink
Leg
2019
Digital print on art paper, posca paint
Silencio
2019–2020
Digital print on art paper, neon
Casino
2019
Digital print on art paper, ink
Charline & Leïla
2019
Digital print on art paper, posca paint, ink
Charline & Blanche
2019
Digital print on Luster paper
Mobile
2019
Digital print on Luster paper
Mimicry
2019
Digital print on art paper
Legging
2019
Digital print on art paper
Leïla in Clouds
2019
Digital print on Luster paper, posca paint
399 Groene zaal / Green room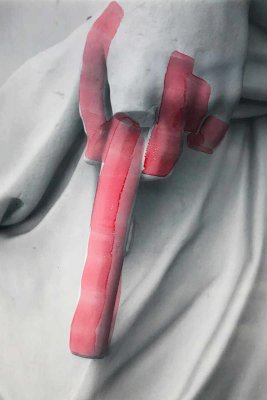 Finger
2019
Digital print on art paper
Cell
2019–2020
Digital print on dibond, neon
Hyoid
2019
Digital print on art paper
Venus / White Shadow
2019
Digital print on Luster paper, posca paint
Blanche & Leïla White
2019
Digital print on art paper, posca paint
Ovidius
2019
Digital print on art paper
399 Grote zaal I / Large room I
The Old Centaur
2019
Digital print on archival art paper
Venus de Medici
2019
Digital print on Luster paper
Prehendere
2019
Digital print on archival art paper
Hannibal
2019
Digital print on Luster paper
The Attempt
2019
Digital print on archival paper, ink
Menhir
2019
Digital print
Phaedrus
2019
Digital print on art paper
399 Stijlkamer / Period room
Syph #02R
2019
Digital print on archival art paper
Syph #01Y
2019
Digital print on archival art paper
Syph #01P
2019
Digital print on archival art paper
399 Blauwe zaal / Blue room
Occo
2019
Digital print on art paper
Tuinhuis / Garden house
Bron
2019
Digital print on archival art paper
Pénicilline
2019
Digital print on archival art paper
Rouwkleed
2019
Digital print on archival art paper, ink
401 Souterrain
Consequences #02
2019–2020
Installation of digital prints on EHM paper
Tuin / Garden
Man and Lion
2019
Digital print on canvas
399 Lichthof / Light court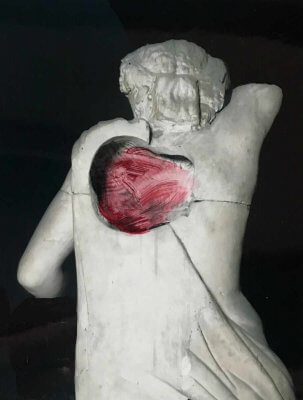 La Voisin
2019
Digital print on canvas
399 Beletage
Untitled
2019
Digital print, gold paint, antique book with hidden space
Serpents
2019
Digital print on Luster paper, ink
Ovio / Nest #01
2019
Digital print on art paper
Ovio / Nest #02
2019
Digital print on art paper
Ovio / Nest #03
2019
Digital print on art paper
Ovio / Nest #05
2019
Digital print on art paper
Ovio / Nest #06
2019
Digital print on art paper